The most recent day, really hot to the explosion, can come out about life and death. Out to play the biggest consideration is swimming, rafting, what the sea.
Now began to lose weight, certainly too late, as the option for their swimsuit Kaopu. Today, I came to tell you, different body, to wear what kind of swimsuit, in order to become beautiful and thin!
Although the size of the swimsuit is not very large, seemingly simple, but really hidden in the machine. Moreover, it is with the daily dress rules, or not the same.
1. arm with fat: wear long-sleeved swimsuit cover
Such as strapless swimsuit, is the fashion and surf clothing body, fashionable, but also cover your arm fat. Outside the long-sleeved swimsuit, not only cover the meat, as well as sunscreen effect. For those who do not fat on the waist of the girl, you can choose split style, watching will be more lively.
2. Shoulder neck short: wear V-shaped swimsuit
Wearing a V-neck can weaken the lateral sense, can produce the effect of visual elongation, the most suitable for wide shoulders and short neck stars. If you think the deep V is too open, you can choose the chest has a decorative style, sexy diminished, color terms and tie models, are hot this year, but no matter what style to wear, the chest should be V-shaped Oh.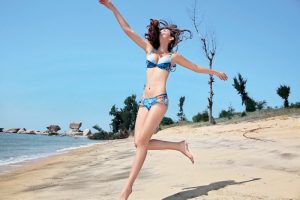 3. how to wear chest
Chest little girl do not choose chest braids, put on the basic into the airport. Triangular swimsuit, the color is more than a visual sense of expansion of the bright color, wear the overall feeling or clean and fresh. Lotus leaf swimsuit can also solve the little chest of the girl's troubles, it will visually create a sense of expansion, lovely and sweet.
How to wear chest
Choose sports suit swimsuit, sports models of the swimsuit generally have chest effect, chest will not run around, the extra sense of movement will be a big chest of girls to reduce the pressure! Will feel the chest ready to come out. The same big chest girl, so wear more comfortable feeling, giving the feeling of health and vitality.
5. belly fat
The waist of a little fat girl, you can choose a high waist split swimsuit, the flesh covered up, but also look high, very friendly to the little man, but also the role of the stomach to heal Oh. Now high waist swimsuit is very popular, a lot of swimsuit main are retro sweet high-waist models, as if the next time back to Hepburn's era.