Are you ready to hit the beach and look your absolute best? For those of you who are on a budget or don't want to lug around a bulky suitcase, a packing light is essential. But don't worry – looking fashionable doesn't have to be expensive or difficult. In this blog post, I'll show you how to create outfits that are stylish yet lightweight for your next holiday getaway! You'll learn how to pack only the items that make sense while still looking incredible and being comfortable with the minimal effort demanded of you. Read on and discover easy techniques for a great vacation style!
Choose a few staple pieces to build your outfit around
Choosing the perfect outfit can seem like a daunting task at times, but it doesn't have to be. One of the keys to looking your best while still feeling comfortable is by selecting a few staple pieces to build your outfit around. Whether it's a classic blazer, a pair of well-fitted jeans, or a versatile scarf, having a few items that you can mix and match will make your life so much easier. Not only will you look great, but you'll also feel confident and put-together knowing that you have a cohesive outfit that works well together. So next time you're getting ready for an event or just running errands, remember to select a few of your favorite staple pieces to build your perfect outfit around.
Invest in key accessories like scarves, hats, and sunglasses
When it comes to fashion, it's all about the details. Investing in key accessories like scarves, hats, and sunglasses can elevate any outfit from basic to stylish. Scarves add texture and a pop of color to an outfit, while hats can make a bold fashion statement or simply protect you from the sun. Sunglasses not only shield your eyes from harmful UV rays but also add an air of sophistication to any look. By incorporating these accessories into your wardrobe, you can easily change up your style without having to invest in a whole new wardrobe. Don't underestimate the power of a few key accessories – they could be the missing puzzle piece in perfecting your personal style.
Roll up clothes instead of folding them to save space
If you are the type of person who loves traveling but hates the hassle of packing, then you might want to try rolling your clothes instead of folding them. Not only is this method space-efficient, but it also reduces the risk of getting creased clothing. Plus, it makes unpacking a breeze, as you won't have to hunt for a specific item buried under piles of neatly folded garb. So next time you're planning a trip, don't be afraid to roll up your clothes and enjoy more space in your luggage!
Bring only the basics when it comes to makeup and toiletries
In a world where we are constantly bombarded with advertisements and influencers promoting the latest trends in makeup and skincare, it can be overwhelming to know what to pack when it comes to toiletries. However, packing only the essentials can not only save space in your luggage but also simplify your beauty routine. Instead of bringing every shade of lipstick and eyeshadow, focus on the basics like a good moisturizer, sunscreen, and a multi-use product like coconut oil. Not only will this save you time and energy, but it also allows you to fully enjoy your travels without the added stress of having to constantly keep up with the latest beauty fads. So go on and simplify your beauty routine, because sometimes less really is more.
Utilize packing cubes and separate shoes with individual bags
When it comes to packing for a trip, most of us just throw everything into our luggage haphazardly. But what happens when we arrive at our destination and want to quickly grab an outfit without having to dig through a pile of clothes? That's where packing cubes come in. These handy little organizers make it easy to separate items by categories, such as tops, bottoms, and accessories. And don't forget about your shoes! Keeping them in individual bags not only prevents dirt and scuffs but also helps save space by allowing you to stack them neatly in your suitcase. With these simple packing hacks, you'll be able to start your trip stress-free and organized.
Wear your heaviest items on the plane to save space in your luggage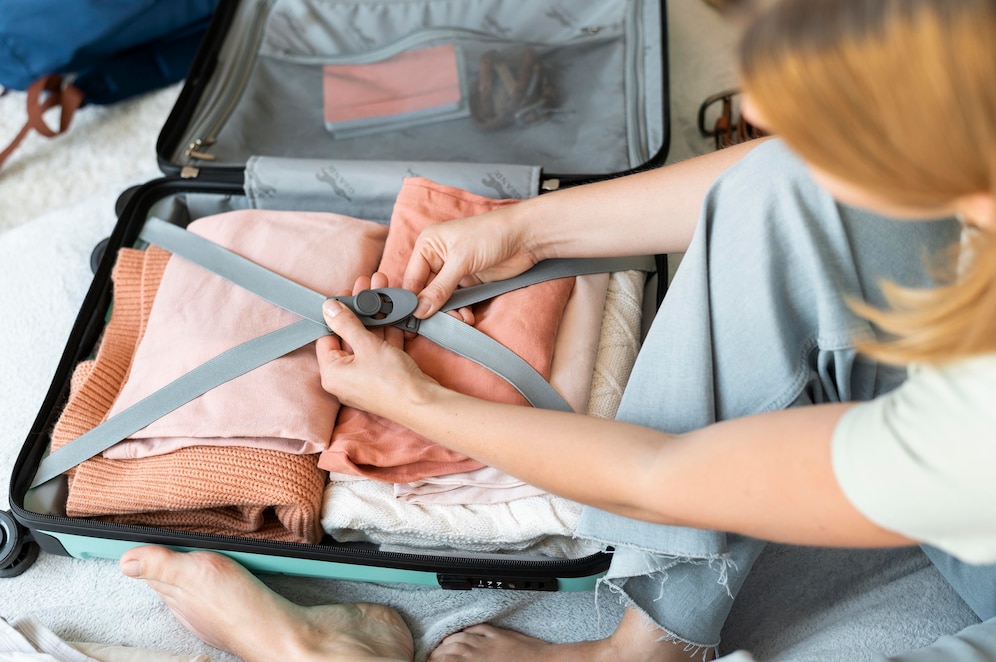 Are you tired of cramming everything into your luggage, only to find out you've exceeded the weight limit at the airport? One easy solution is to simply wear your heaviest items on the plane. Not only will this save you space in your luggage, but it will also keep you warm and comfortable during the flight. Imagine carrying around bulky boots or a heavy winter coat in your luggage, when you could easily wear them on the plane instead. So the next time you're packing for a trip, be sure to consider what items you could wear on the plane to lighten your load and make travel a little easier.
Finally, with a few simple and mindful tips, you have a lightweight, organized, and stylish outfit and bag you can rely on when packing for travel. Now that you've got the right mindset, it's time to give your new techniques a try! First, choose two or three staple pieces that evoke the overall style of your trip. Next, roll up clothes to save room in your suitcase and memorize the mantra "less is more" when it comes to accessories. Pack cubes help keep your things separated while minimizing clothing wrinkles. Don't forget to wear as many heavy items as possible while on the plane so you don't needlessly take up space in your luggage. Lastly, keep toiletries minimal – after all, no one wants to return from vacation with a cluttered bag full of what were "just in case" items. Let these tips guide you through each journey – no matter where life takes you!