Grunge style is a fashion trend that emerged in the early 1990s and has continued to inspire fashionistas around the world. With its combination of edgy and laid-back elements, the grunge style is perfect for those who want to express their individuality and rebellious spirit. In this article, we will give you some tips on how to wear grunge style and create the perfect grunge outfit.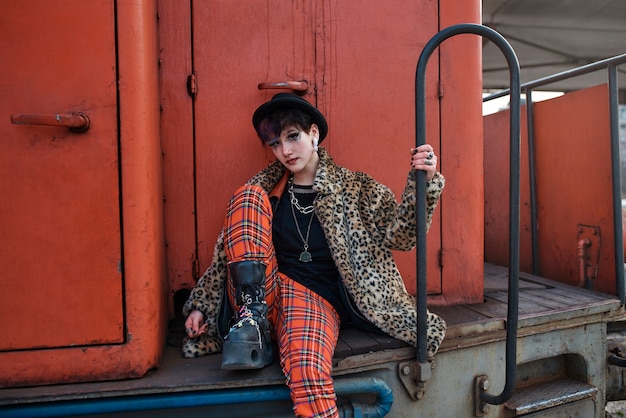 Start with a band T-shirt
Band t-shirts are a staple of grunge style, so start with your favorite band t-shirt as the base of your outfit. Pair it with ripped jeans or a plaid skirt for an authentic grunge look.
Mix and match patterns
Grunge style is all about mixing and matching different patterns and prints. Try pairing a plaid shirt with striped pants, or mix a floral dress with a leather jacket for a unique and edgy combination.
Add a leather jacket
A leather jacket is a must-have for any grunge outfit. It adds an element of toughness and edginess to any outfit, whether you pair it with a dress or jeans.
Wear combat boots
Combat boots are a staple of grunge style and add a touch of toughness to any outfit. Pair them with a skirt or dress for a cool and unexpected combination.
Ripped Jeans
Ripped jeans are a must-have for any grunge outfit. They add an element of rebellion and nonchalance to any outfit. Pair them with a band t-shirt and combat boots for a classic grunge look.
Layer with a flannel shirt
Flannel shirts are a hallmark of grunge style and add a touch of laid-back cool to any outfit. Layer a flannel shirt over a t-shirt or dress for a relaxed and casual look.
Choose vintage pieces
Grunge style is all about vintage and thrift pieces. Head to your local thrift store and look for vintage band t-shirts, leather jackets, and flannel shirts to add to your grunge wardrobe.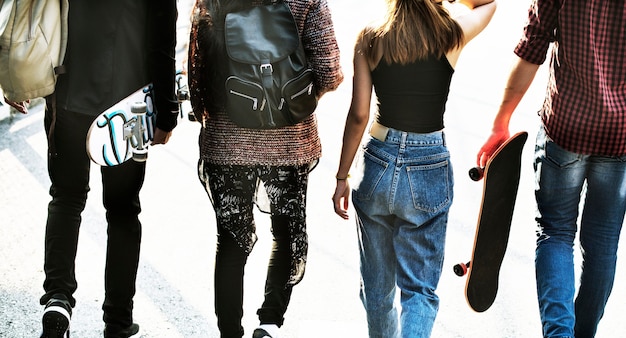 Now that you have the basics of grunge style down, here are some additional tips to help you create the perfect grunge outfit:
Experiment with oversized silhouettes: Oversized clothing is a hallmark of grunge style, so don't be afraid to experiment with loose and baggy pieces. Try an oversized sweater with ripped jeans or pair an oversized t-shirt with a skirt for a cool and relaxed look.
Play with textures: Grunge style is all about mixing textures and fabrics. Pair a velvet dress with combat boots, or wear a denim jacket over a lace dress for a fun and unexpected combination.
Don't be afraid to accessorize: Grunge style is all about making a statement, so don't be afraid to accessorize. Add a beanie, fedora, or newsboy cap to your outfit for a cool and laid-back vibe. Layer on bracelets, necklaces, and rings for a bohemian-inspired touch.
Choose darker colors: Grunge style is often associated with darker colors like black, gray, and navy. While you can experiment with other colors, incorporating darker shades into your outfit will give it a more authentic grunge feel.
Experiment with makeup: Grunge makeup is all about dark lips, smudged eyeliner, and a slightly messy look. Keep your makeup minimal and natural, but add some dark lipstick or smudge your eyeliner for an edgy touch.
Another essential element of grunge style is footwear. Boots, specifically combat boots, are the quintessential grunge footwear choice. The chunky, sturdy look of combat boots pairs perfectly with the rough, edgy vibe of grunge outfits. Other options for footwear include Doc Martens, Converse high tops, and even classic Vans sneakers. Pairing any of these options with ripped or distressed jeans or leggings can complete the grunge look.
Accessories can also play a significant role in grunge fashion. Layering accessories is key, and the more, the better. Stacking rings, layered necklaces, and even body jewelry can add an extra edgy touch to an outfit. Beanies, snapback hats, and fisherman caps are also popular accessories in the grunge style.
When it comes to makeup, grunge fashion leans towards a natural, minimal look. Embracing imperfections and keeping makeup simple can help maintain the effortless, carefree aesthetic of grunge style. Focus on achieving a flawless complexion with minimal foundation and concealer, and enhance natural features with subtle eye makeup and a tinted lip balm.
In conclusion, grunge style is still very much in fashion and is a great way to express your unique personality and style. By following these tips, you can create a grunge outfit that is effortlessly cool and totally you. Remember to mix and match patterns, play with textures, accessorize, and experiment with makeup.