Many of the old fashion trends are now back in popularity. One of them is flare pants which were very popular in the 70s era. Trousers with a trumpet design, which is wider from the knee area, are among the most comfortable pants. In fact, flare pants are chic outfits that are often spotted on street style during fashion week and are even worn by world fashion icon celebrities like Victoria Beckham. So, there's no reason to skip it.
Wearing these retro pants in 2022 isn't hard either. These pants do seem vintage, but wide-leg pants are also really easy to mix and match with various styles. We can style these flare pants with a modern twist, such as combining them with a silk blouse or a trendy crop top. You can also complete your appearance with a platform, high heels, or sneakers.
Here are 6 exciting ways to wear women's flare pants that you can steal for a fresh, chic, and trendy impression without making you look outdated!
1. Minimalist
The advantage of flare pants is that they can be worn for a dressy or casual look. For a casual look, combining it with a basic outfit is the best thing you can do. For example, match it with a loose-cut white shirt. Honestly, the flare pants are enough to make your appearance look stylish without excessive effort, but in case you want to be more flattering and avoid being boring, it's a good idea to add a flashy colored sling bag. You can wear this outfit to go to college or go out on the weekends. Simple yet chic!
2. Elegant
These retro-style pants are not only suitable for a casual look, you can also wear them for a formal look, for example to the office. To make your flare pants look more modern and professional, pair them with a plain silk blouse with a ribbon accent on the collar. This style will make you look classy and elegant instantly.
Don't think that flare jeans can't give you an elegant look. Wearing a long coat or blazer with simple details will give a more dramatic look to flare jeans. You can also add different textures and patterns to make it more playful. This style is suitable for cold weather and the cool rainy season.
3. Denim On Denim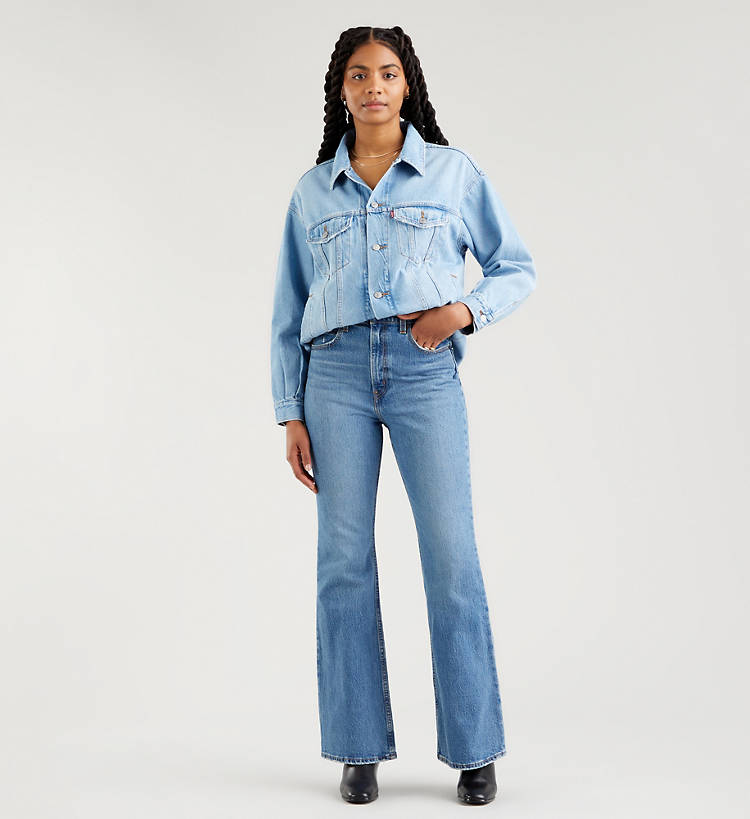 The important point of the denim on denim outfit style is the right combination so it doesn't look too much. Tips, do not wear jeans of the same color. Take a light-colored jeans top and a darker jeans bottom or vice versa. You can also combine double denim with other materials, such as a t-shirt for a more casual look. Complete your appearance with loafers or boots to evoke 70s style with a modern touch that is more fresh and chic.
4. Split-hem Flare Pants
Split-hem flare pants are another exciting style inspiration. Most flare pants fall down almost to the toes. However, women's flare pants that are designed with additional slits at the ends of the pants allow you to show off your shoes. So if you intend to flaunt your adorable shoes, it's best to opt for split-hem flare pants.
5. Summer Style
Ladies, do you have bright-colored flare pants? Yes, this is the right time to wear it as part of your summer outfit.
Summer outfits are indeed very close to bright, warm, and sharp shades. If you have brightly colored flare pants in your wardrobe, summer is the perfect time to pick them up. Pair your pants with a tank top, off-shoulder top, or crop top. Flare pants give a classic look and the illusion of impressive long legs. Wearing it with a crop top will certainly make you look stunning.
6. Boho Chic
What if two trending styles were brought together?
Flare pants paired with a fringe top will be an awesome outfit. This look can make you look bohemian. You know, boho style is indeed ruling the fashion scene this year. Choose tops with earthy colors like brown, ivory, and other natural colors. As a finishing touch, wear a sling bag with ethnic nuances. This style seems to say, "Don't be afraid to express yourself!"
Those are 6 exciting ways that you can try to create a stylish modern look with flare pants. With the right combination, you don't have to worry about looking old-fashioned when wearing your flare pants. So, which style do you find the most attractive?