What is a must-have piece on Summer?
I often say that happiness is the one who lives in a country where the summer temperature does not exceed 30 degrees. It's too hot for me in the summer. So it's definitely my favorite piece of dress. Fluttery enough and pleasant for hot summer days. Sometimes I want to combine summer and wear something a little different, but it all depends on the weather. What I like is that in the dress you can look relaxed, but also very elegant. That is why, in my opinion, a good summer dress is always a must-have. Depending on the choice of jewelry or footwear, you can make totally different combinations. Which is very practical, but also economical.
My suggestions
This is definitely something I would wear. Every dress exudes luxury and looks beautiful. I can guarantee that you will steal all the eyes of those present.
In this dress with embroidery, you will look wow, I don't even have to explain, the picture says it all. Such elegance, a model with embroidery that is always in trend, will make you look beautiful and confident. A decent length of the dress, up to the knees, as well as short sleeves, contribute to the fact that you can wear the model in slightly more formal occasions. Certainly this model of dress, I also imagine straight ballet flats, for a walk around the city with a friend.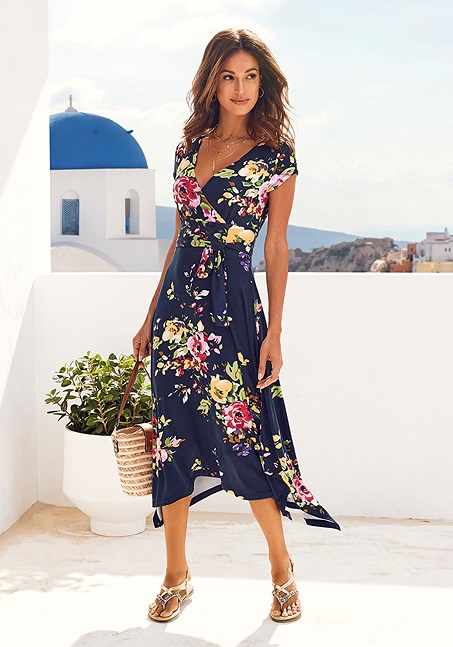 In summer, a white dress is a must. You can wear it in many ways, and just like this, fluttery and comfortable is a great choice. It goes great on white sneakers, with a lot of jewelry, and a knitted bag. Real boho style. Of course, it can also be worn in the evening with high heels. White dress with a tan, it looks great. If I could, I'd wear it all summer. And I also love combinations with cowboy boots. I'm sure fashion lovers understand that. Do you like to wear white in summer or do you choose a colorful print more often?
For the reason that many women and girls love floral prints in summer, I decided to show you this model. Perfect for flying. In summer, you should wear comfortable, lightweight models, so that you do not sweat in tight clothes and so that you can breathe. Of course, it goes without saying that all models are made of natural and top-quality materials. Combined with low heels, this dress looks like a million dollars. Orange, is a real summer color, which is in trend again and with which you will never go wrong. The choice is yours. Glad if you liked mine.