Summers are the best season to dress up and try on different colors, play with fashion, and explore all the colors of the pallets. Dresses are the best ensemble that is mostly worn in summers, and every woman wants to have a good collection of dresses which she can wear any day and feel confident.
Further, there will be looking at some of the best dresses that will get your attention, and you will definitely want them to add to your wardrobe. Every girl wants to have some of the most trending dresses in their wardrobe so that they can wear the most amazing dresses while being trendy.
Floral Corsetry-Inspired Dress
This floral dress is pretty beautiful, and a floral print is really in fashion; you can definitely add it to your wardrobe and wear it in the summer. This dress has a sweetheart neckline which is the first thing that grabs your attention when you are thinking of buying this dress for yourself. This dress is perfect for the summer with the thin adjustable straps and light fabric.
Whenever a person sees this dress, their eyes gradually get stuck to it because of its mesmerizing prints and whole look.
Women's Black Glittery Cut-out Dress
This dress is all about the glamorized side. Summers is not all about cute and pretty vibes; you need some of the glamor and style to add to your wardrobe. This cut-out dress is one of the must-have ensembles for summer nights.
If you are playing a vacay, you must consider buying this one for yourself. This H&M is one of the best black dresses that can suit any body type, and being black; it is pretty bold. It is not for the days but the nights of the summer. The fabric is also pretty commendable, so if you want to have one fashion statement dress, then this is the one for you.
Asos Design Cut Out Back Midi Sundress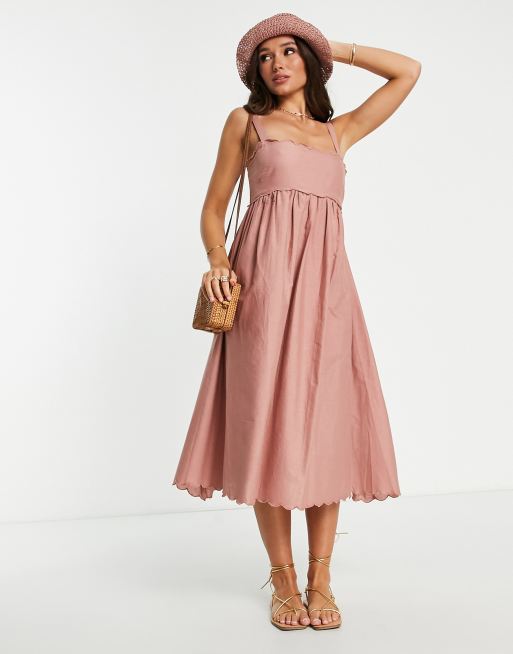 This pretty pink dress is more on a pretty side, it gives the beachy vibes, and the fabric is delicate and favorable for the summer that you can consider adding this one to your wardrobe. The cut-out at the back adds style and gives a different look to the dress. If you like the pink color, this dress will definitely grab your attention.
Parting Words:
If you love to dress up and try different colors, these dresses are perfect to set up your wardrobe for the upcoming summer. You can get vacay ready by checking out these amazing dresses and buying them if you feel like they match your vibe and draw your attention. If you want to be summer ready, you must once try out one of these dresses.