Every woman wants to tone their body; hence the shapewear business is flourishing today because of the hourglass figure craze. Growing in a shapewear business is much easier when one buys wholesale items. On top of the cheap price of buying wholesale, who also gets a discount? Well, Wholesaleshapeshe is one such brand offering such an amazing offer!
Wholesaleshapeshe is proud of its product availability, developed by a specialist who has researched and worked in the fashion business for a long time. Whenever you buy from them, you know you'll be able to market them quickly and profitably.
They keep their online list up to date because new things are introduced and modified regularly. They are certain that their company can only expand if their clients' businesses flourish. They want to establish long-term strategic partnerships with them.
Neoprene Shapewear for Liposuction Patients.
You can adjust four eye-and-hook latches in the front midsection to fit your preferences. It includes a U-shaped frontal collar that supports the breasts while also reducing armpit lumps.
It has three layers on the stomach to better handle the stomach. There'll be two overlapping pieces of cloth to offer space between the thighs for the convenience of using it while using the toilet. It also features a groin thong design that you can detach.
It features a style with adjustable shoulder straps, booty raising, and butt improvement. This shapewear has leg openings. It is made of stretchy mesh with a dropping glue pattern that isn't too stiff and can avoid wrinkling.
The scenario of Use:
wearing regularly
Wearing after giving birth.
putting on after surgery
Wearing to work.
You can also attend a party.
Skin Tone, Wide Waistline, 3 Layers of Hooks, Butt Lifter, Curved Smoothing.
These wholesale butt lifters are created with 30 percent Spandex and 70 percent nylon fabric. It is designed with an open groin for comfort whenever nature knocks. One can add a grip latch to the stomach belt towards the front to improve stomach stability.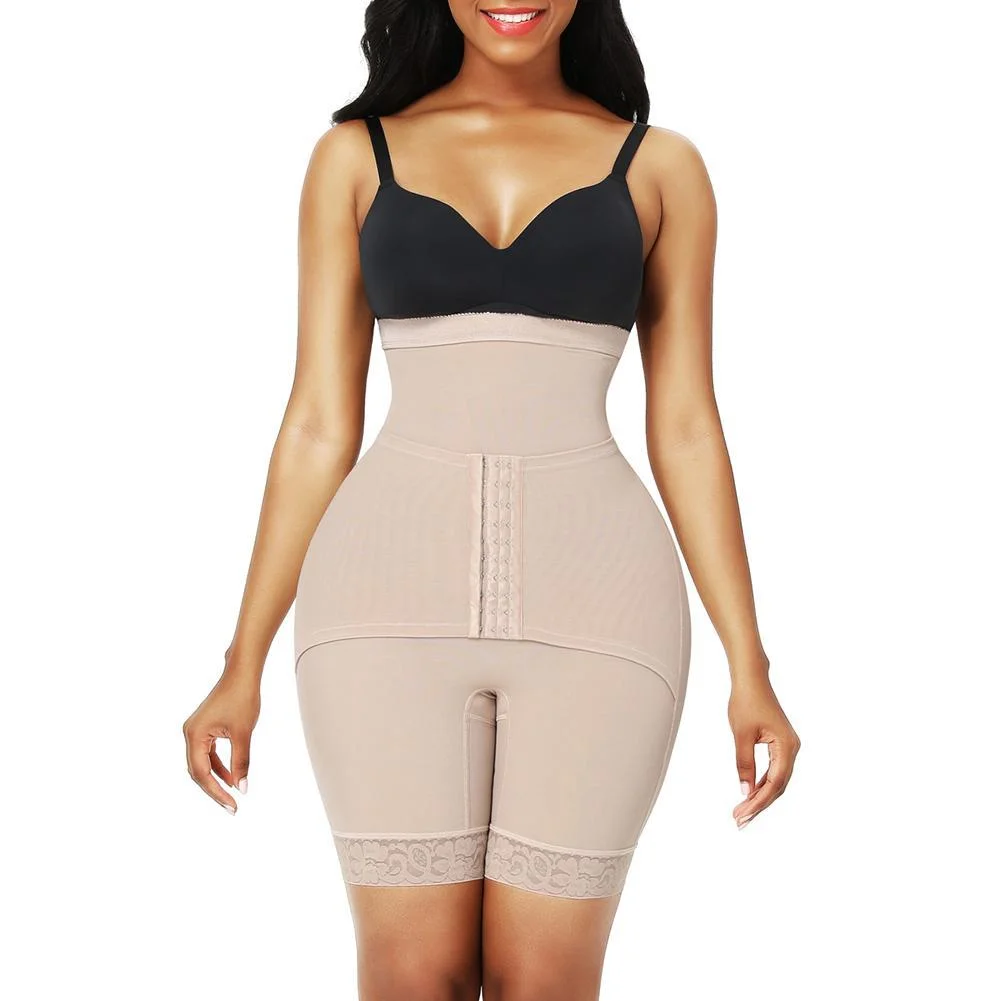 The ultra-soft nylon-spandex combination is ideal for all-day ease and flexibility. A 1.37″ broad elastic band around the waist resists squeezing, and two springy plastic bones along the ends maintain the design.
Lace trimming on the thigh seams increases breathability, while slip-proof bands avoid rolls-up while exercising.
Bodysuit Shapewear Black Half Sleeves Stomach Slimming Underwear.
This shapewear is manufactured from 30 percent Spandex and 70 percent of overall Nylon. The band is flexible and removable. Hooks are simple to glam down or up. Lace has a lot of elasticity for added comfort.
It is easier to use the restroom with an open groin area. Butt uplifting style will show off your exquisite butt shape.
Flowery Lace Bodysuit Extra Size Broad Straps Attachments Body Sculpting Bodysuit.
The materials needed for making this lovely shapewear include 30 percent spandex and 70 percent nylon. Its highly elastic chest design component can suit any shape and has an unpadded structure for relaxation.
You could adjust the three rows of closing eyelets for increased influence. Its crotchless structure allows peeing easier. This bodysuit is great for wholesale shapewear suppliers.