Waves of the sea, sexy swimsuit, beautiful people, this season, we must go to the beach! Whether it is playing in the sea, or sunbathing on the beach, a sexy and beautiful swimsuit is the best power you want to go to the beach!
This summer fell in love with swimming, must fall in love with swimsuit! In this strange occasion, exposure to their beautiful skin is not a fault but a show of privilege, so abandon all the concerns of doing sunscreen toward the beach!
In the courage to play the water season, the beauty who have already put the pool as a T station, interpretation of the scene of the pool side only fragrant story ~
This hot summer late, want to find fresh and comfortable, swimming is not to be missed sports fitness activities. Enjoy the cool water to bring the touch, wear the United States and the United States swimsuit free to enjoy some.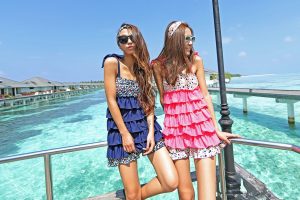 Want to let the summer body exposed more perfect, then now choose a nice swimsuit.
Sexy triangle swimsuit color is also very neat, fabric elastic tight, swimsuit quality is very good, and is two layers, not through, the water is not heavy light. Personalized design, remove the awkward embarrassment, but also show off your super beauty back, show the body is simply a perfect swimsuit!
Retro Simple Triangle Soup Sweatshirt Sexy Tunic, Comfortable Sunscreen. Built-in steel care, comfortable gather together. Back strap with halter design, more sexy. Pack hip hip piece, comfortable and more personal. Sexy is not exposed, the focus is thin and significantly chest, keep the rate is particularly high.
Ribbon Sexy Tube Top Bikini Tube's swimsuit has been the effect of the chest, skin tone with elastic, cover the arm at the same time have a rugged rhythm of the United States. The use of soft and comfortable fabrics, both with fashion and retain the natural comfort of the practicality.
Sexy Siamese lace hollow swimsuit wholesale bikinis This is in the version type is Siamese, the use of lace hollow details of the design, full of British noble ladies atmosphere. The design of the shoulder is beautiful clavicle, black and white stitching, simple atmosphere, the back is a zipper, easy to wear off.