When it comes to fashion trends, there are seasonal trends and then there are trends that stay around for the whole year and beyond. When it comes to building a capsule wardrobe, most women would want to make sure that the majority of their outfits can last through the whole season and then transition well into the next one. One such fashion trend is the blazer dress. It is a hot trend that you have probably seen on your Insta feeds, TikTok feeds, at weddings, parties, and even on the red carpet.
The blazer dress is actually very versatile and can be styled for many different occasions and is perfect for different body types. It is very flattering and gives off a slim silhouette with a tiny waist and can accentuate your curves. The length of this dress can be under the knee or stop just around the thighs. The blazer dress comes in a wide variety of styles like oversized, cinched waist, asymmetrical and more.
No matter if you are wearing it to a brunch with friends, parties, or a wedding, here are some useful tips on how to style the blazer dress that will flatter you.
Belt It
One of the popular ways of wearing a blazer dress is to belt it. Cinching the waist, can emphasize your curves and adds an illusion of elongating your body. There are many blazer dresses that come with a belt already but if they don't, you can belt it with a regular belt. It is best to fix the belt around your middle or right below your bust. This will ensure that the breast area is open and thus making you look like you have longer legs. A blazer dress is a good trend for accentuating the legs.
Add Layers
The blazer dress has a variety of styles. You may come across a single-breasted or double-breasted blazer dress, sequins, or oversized blazer that is made into a dress. If you plan on wearing a blazer dress in the colder months, you can cover up the neckline by wearing a turtleneck underneath and adding some statement jewelry such as a chain necklace.
Shoes That Go With Blazer Dresses
When it comes to the appropriate footwear for wearing with a blazer dress, you can style it with different shoes. A blazer dress can be dressed up or dressed down and the best shoes are boots and heels. If you have a midi blazer dress, opt for pumps in the same color as your dress so that they blend in seamlessly. As for a mini blazer dress, you may go with mid-thigh boots. In order for your legs to look longer, go for higher heels. It is best to avoid wearing flats. 
Blazer Dress With Pants
You can even turn the blazer dress into a top by pairing it with a pair of wide-legged pants. Do keep in mind that this works for a mini blazer dress only. For long and form-fitted options, you can either go bare legs or put on a pair of translucent tights.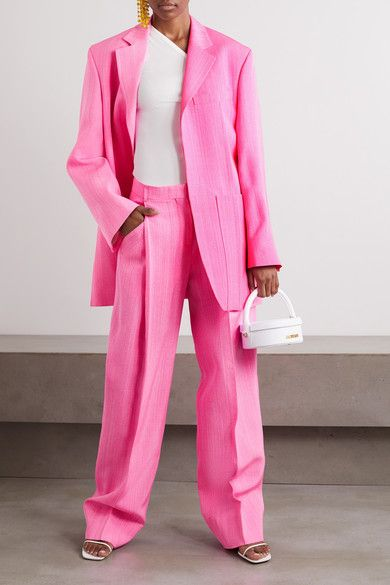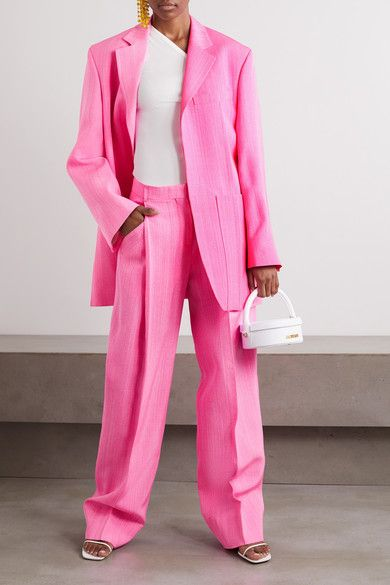 Wear It As A Jacket
Another way to style this versatile piece is to wear it like a blazer or jacket. As a matter of fact, the blazer dress is like an oversized blazer but is more form-fitting to make it into a dress. It can be unbuttoned and worn as a long-line blazer or jacket.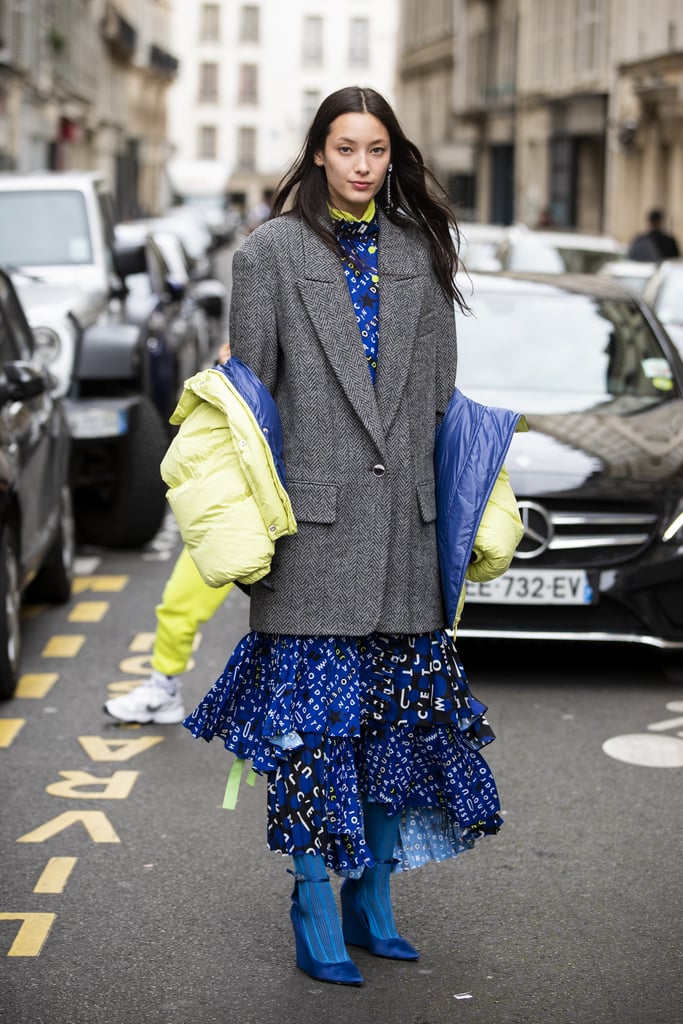 Oversized
The oversized blazer is a popular style. To create an oversized blazer outfit, choose a long oversized blazer and either wear layers underneath it or just on its own.