The summer season is here, and if you're someone whose styling list is topped by comfort, you've come to the right place! It's that time again to slip into those light and airy sundresses. We all know how super comfortable we can be in sundresses. Moreover, sundresses come in different styles to suit every shape and personality.
The sundresses are available in different styles like casual t-shirt style, bohemian style, off-shoulder style, and many more. In this article, we present you with a bunch of the most unique and trendy sundresses available that can look fab from drab. So go with it!
Bohemian Dress
The obsession for the bohemian trend continues unabated. The bohemian trend gives you an edge over the others as it looks super chic and stylish. Bohemian summer dresses come in various designs, but this pick from Amazon is something that caught our eyes. The sleeveless design makes it even more comfortable to wear. And the floral print has captured our hearts! Be sure to secure this dress.
Floral prints
Ladies, the love for floral prints is never ending. The calming effect that we get by simply putting on this print makes us look incomparable. As mentioned earlier from Amazon, the dress looks beautiful; the sunflower print seems so attractive, as you can see.
You could wear this outfit on vacation this summer and perhaps go for a walk along the beach line. It's comfortable to wear around the home and is even ideal for offices.
You could simply glam it up with dozens of cape jewelry, boots, wedges, and sometimes even trainers. You can also pair this dress with some flip flops and your brunch look for the summer season is ready.
WRAP UP DRESS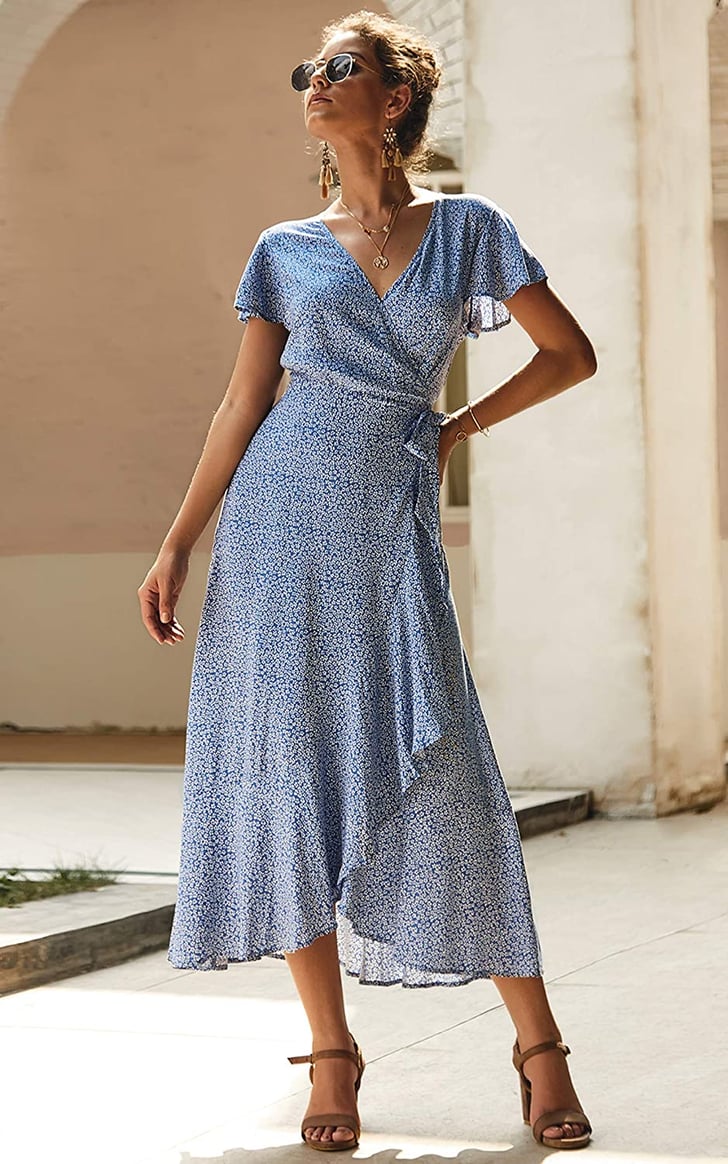 Wrap-up dresses are the best if you want to flaunt your waistline. Wrap up dresses give a very lovely cinching effect to the body. If you are someone with an hourglass body shape, then you must invest in a wrap dress. Adding polka dots will make you appear incredibly gorgeous. This outfit gives you a slim figure.
This is a stylish outfit that will make you stand out. These dresses are available in different colors but opting for a bright color is advisable in summers.
CAMI DRESSES
Cami style is one of the best types of summer dresses available in the market. These types of dresses are super breathable, and as you can see in the picture, they come with pockets which is a real treat!
These dresses look super cute and are perfect for summer time. The slit gives this dress that extra something and makes you look a little sexier.
T-shirt Dress
The ruffled t-shirt dresses are the best option if you want to look casual yet comfortable. You have to invest in something like this, but one thing to consider when buying summer dresses is the fabric. Opt for materials like cotton or linen rather than polyester. These lightweight fabrics absorb body sweat and give you a cooling effect.