How beautiful skirts are! I must admit I am a great lover of this garment, I have over 70 skirts in my walk-in closet and I never stop buying some! I am serious, there was a period of my life in which every time I went out, I bought a skirt, even for a simple walk. In the end, they are cheap, comfortable and I feel very well reflected in a skirt! And then, if it were up to me, I would abolish any type of garment to be worn on the legs to make room only for summer skirts. I mean, how pleasant is it to wear a skirt in summer? I only wear skirts in summer: to buy groceries, for shopping, work, and university. They absolutely are the garment I like the most.
Today, however, this article will be about a particular type of skirts: we will all take an imaginary trip to an American high school and think about those uniforms typically worn by the cheerleaders, which we have always dreamed of wearing when watching our beloved American TV shows. Let's talk about the pleated skirt, and let's see in detail 5 different styles that can come out of it!
Pleated Mini Skirt
Let's start with the most youthful version among those on the list, which cannot fail to be a mini skirt! If you are on your first purchase of a skirt, I can only give you the advice to buy this type of skirt and to immediately go to take selfies with your friends to be published on IG. Combine it with a crop top or bandeau top and your bad American schoolgirl outfit is complete!
Pleated Long Skirt
If I have previously addressed to those of you who are young, it now seems right to speak to your moms, who will surely remember very pleasantly the period in which they wore the mini version of these skirts, but who now prefer the long version because of the changing style with age. So here is for you a super colorful pleated long skirt, perfectly combinable with a top or a shirt and your always comfortable pair of flats.
Glitter Pleated Skirt
Let's say that beauty is also in the details, as well as in the particular material used for this faux leather glitter skirt. An excellent pattern to use in summer to enhance your tanned complexion in the sun!
Sheer Pleated Skirt
In addition to the glitter skirt, here is another unique model: the sheer skirt! Compared to the previous one, this is a skirt that certainly presents itself with an extra gear, and, above all, can be worn both day and night. What about the pairings? Well, I give you carte blanche and I can tell you that even sneakers look good on it, so your choice!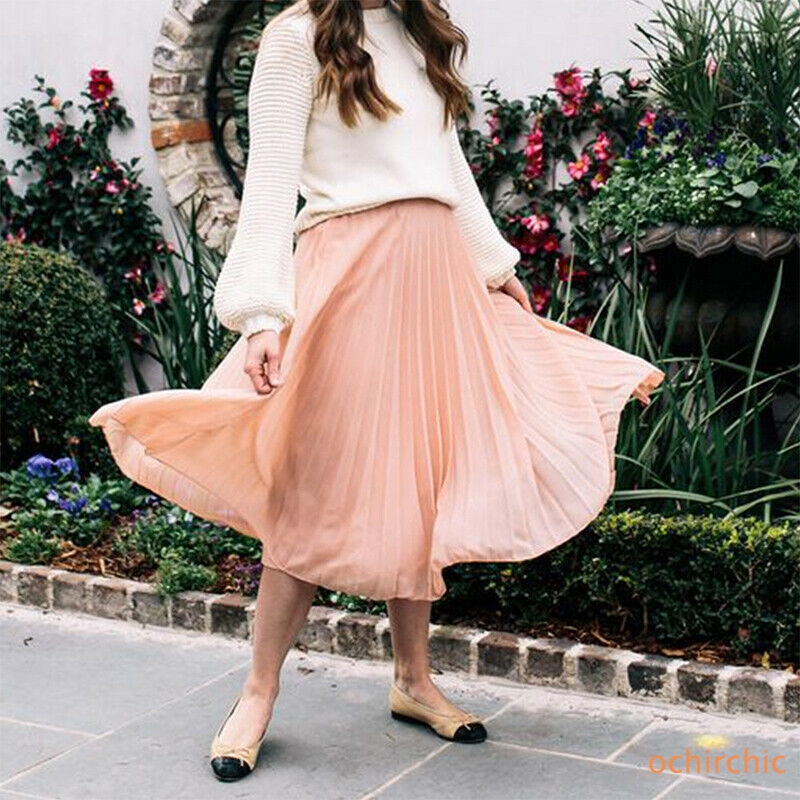 Pastel Pleated Skirt
Colors are not infinite, but as far as I'm concerned, pastel colors are one of those shades that I would never get tired of wearing. If you want to give much more prominence to the colors of the skirt, I recommend you wear a top and white shoes, for a minimal style thanks to which you will never go wrong.