Every woman is a stunner, whether it is to go to the swimming pool or hot spring tube or beautiful beach, want to become the most beautiful scenery, a swimsuit determines the quality and mood of travel.
Choose a swimsuit is very important, whether it is to want a comfortable fabric, or beautiful style, today what the details of the beautiful swimsuit style, so that you can live up to the heart of their own travel.
1. sexy bikini
Bikini by a lot of women love, representing a woman's sexy and taste, the ultimate simple look, but it is not elegant, full of charm of the beauty of women.
The most simple look, but also the most atmospheric style, white and black clever mix of women's sexy place, swim trunks shape lengthening the effect of legs, every work is a senior designer's careful production, Is also a unique presence.
Summer new, printed triangle cup top design with advanced diving fabric work and styles are very comfortable, but also has a thin effect, fashion design, tourism resort beach spring, are better choices.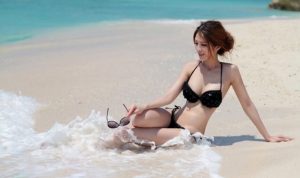 2. Three-piece swimsuit in the atmosphere
Three sets of swimsuit the most affordable, both bikini sexy, but also a sense of security of the swimsuit, a nice three-piece swimsuit like the usual ladies.
Swimsuits Women's Skirt Chiffon Blanc
Professional custom quality and safety of environmentally friendly fabrics, pure green printing and dyeing process, wear in the body is very comfortable skin care, steel design, not only the effect of gathering, but also to shape the S-shaped good body, safe three pants Abandoned buttocks, sketched out fascinating curves.
Comparison of the three-piece swimsuit swimsuit, a kind of hazy beauty, temperament of the water sleeves blouse, slightly revealing sexy skin, drift seductive little feminine, the most eye-catching upper body and waist layers of lace, Out of summer unique sense of freshness.
3. Conservative non-stop body swimsuit
Siamese swimsuit both to maintain the oriental women's conservative heart, but also to meet the beauty of the psychological, choose their favorite swimwear, in the beautiful area, the mood will be greatly increased.
Halter-style design, not only in this dress swimsuit to give a very sexy feeling, and very refreshing, not old-fashioned, the color of the mix and let this Siamese full of vitality.
Behind the cross with the design, filling the effect of female beauty back, red and white hit color style is more to mention the charm of Oriental women, 3D three-dimensional cut more prominent self-cultivation curve.