The weather is getting hot, advocating a healthy lifestyle sister who is already estimated to have to wear a sexy swimsuit stroll the beach it Well, swimsuit though nice, but did not think it has any maintenance precautions?
First, swimsuits afraid of heat, fear of chemical agents, sunscreen and cosmetics, afraid of sand and other rough surface of the rock, afraid of wet or long stuffy stuffed in plastic bags. Wash the hot springs and three warm as much as possible not to wear swimsuit, so as to avoid the case of heat caused by deformation of the situation.
Second, before going to the water thoroughly with a clean water swimsuits to reduce the erosion of seawater or water.
Third, before swallowing swimsuit, first with a lot of water washed away the body of chlorine or salt water, replaced and then carefully washed again, do not use the use of hot water, washing powder, bleaching powder, cold scouring and other chemicals, also Can not be used washing machine twist, neutral detergent can be soaked for 10 minutes after the hand gently scrub, or just washed with water, wash several times.
Fourth, just swim through the swimsuit should not be placed for a long time in the ventilation , should be washed as soon as possible with clean water.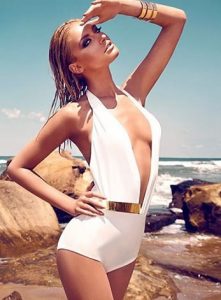 Five, do not wring dry, it is best to use a large towel to absorb water, placed in a cool dry place natural dry. Avoid prolonged sun exposure, do not use a dryer or a hair dryer, it will damage the clothing to make it deformed.
Retro stripes were thin swimsuit, with transparent fabric splicing breathable yarn, soft touch, refused to rub the skin, the body smooth slim lining, the water does not stick body. Ergonomic strap design, widening the bottom Wai, comfortable and no trace. Can take the chest pad, free to insert, refused to empty cup, the classic sports wind, focus on the audience line of sight. Exquisite edge, to show the details of quality, inside the whole smooth sewing, smooth skin.
Red sexy bikini swimsuit, the choice of light swimsuit fabric comfortable, breathable frost, enjoy the comfort sensory experience. Gather the chest cup, thin on the thin, filling the sexy curve. Neck, back strap design, free control of tightness, easy to wear comfortable. Triangle swimsuit from the visual elongated leg lines. Swim trunks with the same color fabric lining, wearing comfortable.
High waist was thin bikini swimsuit, high waist design, abdomen hip, sexy modern. Gather the chest cup, to create comfortable stereotypes. Comfortable fabric, not only skin-friendly, but also bring you extraordinary wear experience. Built-in comfortable three-dimensional chest cup, can be inserted chest pad, more gather shape effect. Fashion neck lace design, on the chest, to enhance the effect of gathering.
Halter straps with high waist swimsuit, high waist design, elongated leg line, was thin. Comfortable three-dimensional chest cup, comfortable chest pad, gather effect is good, highlight the perfect good body. Tops and swim trunks are used lotus leaf design, show sexy but also has a unique Japanese wind, to create your overall unique charm. Comfortable fabric, soft body, skin-friendly.
England lattice bikini, gathered to upgrade, three-dimensional sailboat cup, effectively wrapped in the chest. No steel ring design, comfortable and healthier. Triangle three-dimensional cut, better show leg lines, lengthening the leg curve, waist lace adjustable design, more convenient. Fabrics with international professional swimsuit fabric, smooth skin-friendly, more soft and comfortable.
Cover belly sexy banding bikini, thin pattern design pure color swimsuit, summer vacation pure charm full. Comfortable and breathable fabrics, alignment precision, fine edge, inside the smooth sewing, good quality assurance of your great experience. Built-in comfortable gather chest cup and chest pad, gather effect is good. Strap design, moderate degree of comfort, no trace of comfort.