Winter is all about layering in coats and jackets like puffer coats complete with fuzzy foot warmers and snow boots. The winter wardrobe is the peak fashion moment. During the colder months, we tend to want to cover as much skin as possible. One could not help but wonder how could you look cute when the temperature is below freezing. If you often think that your cute Instagrammable winter outfit would be ruined by all the bulky coats, well it does not have to be that way. If you can style your winter wear correctly, the winter coat will definitely add the final touch to your outfit and not just keep you warm.
That being said, how exactly do you wear all the winter layers and still look stylish? Do you want to skip the layers or do you just want to focus on your outerwear instead? The secret is coordinating colors and balancing to nail the cold weather style. Need some style inspiration? There is a plethora of tips and tricks that can inspire your winter dressing this season. For example, you can wear a pair of bike shorts underneath your dress so that your thighs are not exposed to the cold elements. Or you can opt for a mini skirt with skin-color leggings and a matching full-length coat. Do scroll ahead for some of the coolest ways to wear your cozy ensemble and still look adorable.
Sweater Dress
Who doesn't like sweater dresses? They feel and look sophisticated and as an outfit, they require minimal use of the brain to piece them together. Just put it on and match it with a pair of killer boots and you are all set. Did we say the Barbiecore trend is still trending hard this season? A sweater dress in this fun color will keep you on trend.
Long Coat Outfit
The key to looking chic all winter long while keeping you warm and toasty is a long coat, especially a coat in neutral colors like beige. This type of coat is not only stylish with any outfit, but it also elevates the trendy knit top and leather pants. For an extra sleek style, you can add a belt to cinch the waist.
Image –
Hoodies Over Dress Outfits
As much as you love wearing dresses, donning one in the cold winter is not an easy task. However, with the right and proper styling, you can still wear dresses and look good as you would in the summertime. You can choose long summer dresses for extra coverage on the leg and combine them with sweaters or hoodies.
Basic Outfits
If you love the comfy basic style, well you'll be glad to know that it doesn't have to be boring! To spice up a basic long sleeve top and joggers instantly, just add a long puffer coat. You will feel super comfy in this laid-back casual look and you can even add a beanie and match it with your favorite sneakers for a chic and cute street-style vibe.
Plaids Outfit
If you are a fan of plaids, wearing a plaid jacket will spice things up even the plainest ensemble. By choosing printed outerwear, you can go for a simple monochrome look underneath or a bright color bottom to make a fashionable statement.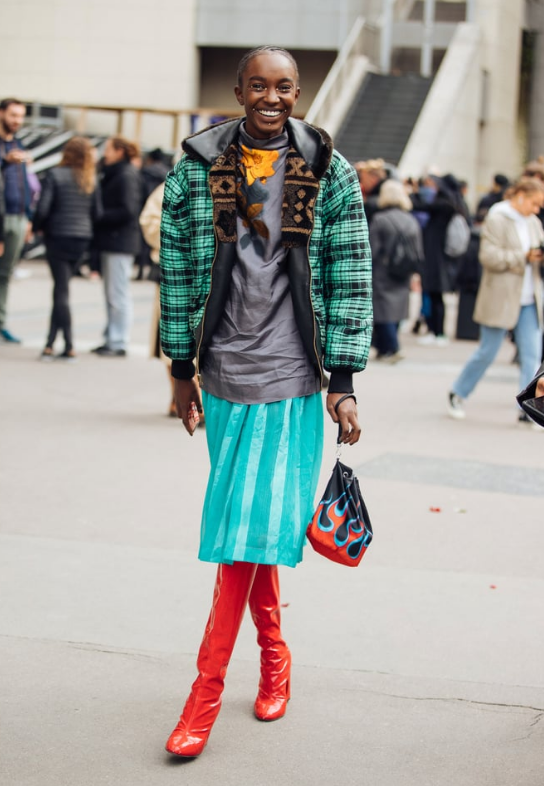 Cute Tights Outfits
If you want to wear a mini skirt in the freezing temperature but do not want your legs to freeze, you would need some tights. A pair of skin tone or patterned tights will not only help to keep your legs warm, but they will also add a stylish and eye-catching element to your outfit.