A pear-shaped body is the type of body shape with more full hips than the shoulder and the busts. Another quality of such body shape is a large waist, and to a certain degree have slim shoulders and arms.
This type of body has accumulated fats around the thighs and hips instead of the midsection area.
If you have pear shape body type, do not bother about what to wear. There are lots of dresses that you can wear that will make you look good, comfortable, and attractive.  Once you have identified the type of body you have, you will be able to choose flattering dresses that will complement your body shape and make you look and feel better all the time.
The objective of Pear Shape Body Dressing
The main reason for getting a dress that best fits your body is to get a better and attractive shape that will flatten and accentuates your physical appearance.
You can minimize your hips as a result of your pear shape. To accomplish this, you will need to stress your shoulders, and concentrate on your waist and upper body and make the legs longer.
Your fashion aim as a pear is to stretch your figure to enable you to look bottomless heavy. You will balance your shoulders and hips while you allow your curves to be shown. It will shift attention from your hips to your top half to have a focus on your face, tie a scarf around your neck as this will eliminate focus on your hips and shifted it to the upper half of your body.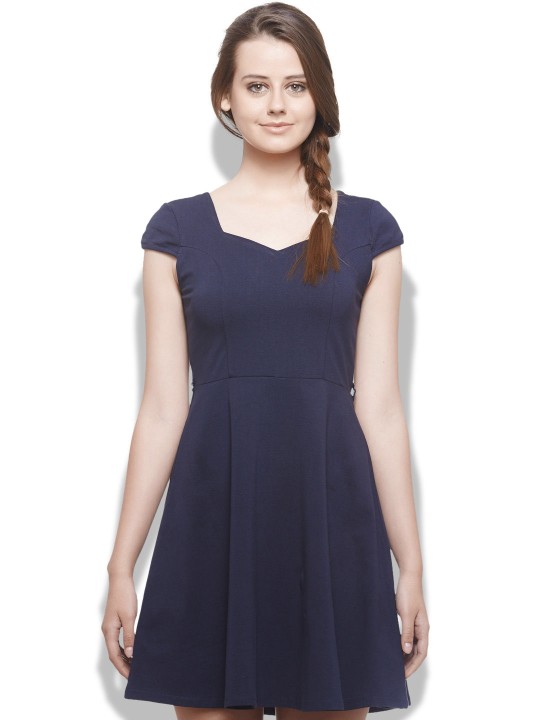 Make sure you wear darker and slimming dresses on the bottom, such as dark slacks or jeans, or A-line skirt or dark knee-length thin skirt. That does not mean you will be wearing black dresses often, instead put on more colored dresses at the bottom with a lighter color at the top.
As a pear person, you might draw attention to your upper body areas. Put on prints, colors, or other accessories at the neck to purposely draw more eyes away from your hips to the upper side of your body. Do not wear tops that will end at your hips to avoid unnecessary attention down below. Ensure you wear a tailored combination with flared pants with an eye-catching and attractive top to make a statement.
There are several ways to get a perfect dress to wear even as pear shape, either in spring or summer.