Saira Khan's bikini-confident photos come after she bared all to her Instagram followers while on holiday in Lake Garda earlier this month.
She appears to have fully embraced the Loose Women's body positive campaign, as she continues to post photos of herself in various bikinis during her current holiday in Croatia.
In one snap which Saira posted on her Instagram on Tuesday, the TV presenter is standing proudly on a sandy beach wearing a black and white Seafolly bikini covered in a fun aztec print – and fans have gone wild for it.
The positive feedback has clearly spurred Saira on, and on Wednesday she posted even more bikini shots.
This time, Saira opted for a rainbow coloured ruffle bikini – another from the Australian swimwear brand, Seafolly.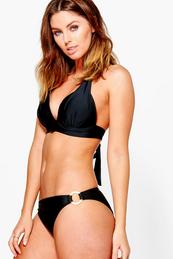 In one photo the mum of two is standing on rocks by the sea, with her hands in the air, flaunting her incredible abs, and huge smile.
Alongside her bikini pics, Saira has posted photos of her family, sharing intimate moments of their holiday in Hvar with fans.
In one particularly poignant post, the 47 year old is sitting on a rock looking out to the see, with the caption below reading: "As I sat on this rock and looked into the emerald green sea, waves crashing, I thought about life, how I have been judged for my race, religion, colour, appearance, opinion and drive to get on in life.
"Then I looked at where I was and thought, I'm glad I had to overcome all those obstacles because it's made me the person I am today and I've created a life that I want."
Fans loved the reflective post, with one Instagrammer commenting: "Saira, you are such a strong, beautiful lady and a big inspiration to a lot of ladies!"