Finding the perfect swimsuit sometimes feels like an impossible feat. Some people are too mean, others too boring-and others, well, they just don't fit.
Vancouver's new swimsuit brand, ocin, is seeking to ease pressure to buy swimwear by offering men and women a stylish, minimalist style, which also provides an element of ecological awareness. We caught up with the brand's founder, Courtney Chet (courtney bed), and talked about swimwear, respect for the ocean, and what made her brand stand out among the many other swimwear options.
Q. For those who aren't familiar, what is OCIN? 
. Oshin is a lifestyle brand, a line for men and women swimming. But at our core, we exist to connect humanity to our most open, freest, most conscious self, to our collective future. We believe that if people live in global openness, there will be more compassion, awareness and universal respect that will enable us to work together for our communities. Our earth and our oceans do some amazing good things.
Q. Is there a story behind the name?
The name is actually personal to me-it's my sister and me, upside down. Nico. She got so much support from the start, and for a month in a row, she brainstormed through so many different ideas, combinations and potential names, and when I finally wrote this down, It was clicked and it felt perfect. But the name also represents our purpose as a brand. Ocin is pronounced "Ocean," and we have a strong connection with it. For us, the sea is a symbol of this freedom and infinite consciousness that we have mentioned above, and it also needs our protection. So we want to create a brand that helps us bring consciousness to this great body, giving us life and our need to survive. If we can all care about things that affect us all, then the ability to care and act extends to other areas of our lives. What distinguishes it from other brands? a. One thing I learned from my 12 years in the industry is that when brands have a real commitment and understanding of their goals, while maintaining the flexibility to learn and innovate, it is time for them to see success. So I hope that what helps us stand out is the recognition that we are really working hard to make ourselves more than just another clothing brand. We have made some commitments to make it easier for our communities to do good with us, including ensuring that our packaging is reusable, recyclable or compost. Our products are made of recycled polyester and nylon yarn. We choose an organization each year to donate some of the proceeds, and this year to our friends at the surfrider Foundation.
Another thing that sets us apart is our size naming. On a global scale, standards of scale are fundamentally inconsistent. Because swimwear is already a difficult product to buy, I want to put aside the connection for both men and women. We want to focus more on how you feel about what you wear, rather than depending on the size of the label. Oshin, we offer five sizes from Taslim to Arta-each name and inspiration from the beautiful water in BC. It's cool to be able to inspire the way our communities interact with brands, products, experiences, each other, themselves and the Earth by interacting with our brands.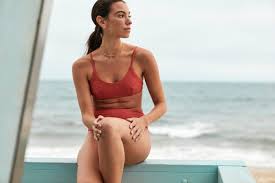 Q. Where are the pieces designed/made? 
I designed it in Vancouver and we work closely with our overseas manufacturing partners in China. They have been leaders in manufacturing for the past two decades, and I'm lucky to be working with them, especially as a young start-up.
Q. What inspires the designs?
Versatility is one of them. I wanted people to be able to wear these things in the water, so I designed it with this in mind, and I really thought about the possibility of taking someone to the water and the place behind it one day. I wear my single piece as a tights suit and have always liked the classic blouse as a choice of underlying layers under my t-shirt. For boys, all my shorts are designed to provide extra comfort and support so they can eat from the gym to the surf without having to go home and change first. A clean and noble aesthetic is another matter. From a visual perspective, I'm personally inspired by modern and contemporary art, architecture, lines and angles, nature and minimalism, so I want my product to show it, including how we shoot and design it. I absolutely love the two simple colors of our first women's chapter sunset and olivine, which is a tribute to nature, especially my favorite Hawaiian Islands.
Q. Is there a 'hero' product in the line? If so, which one and why? 
I wouldn't say there's a Hero product. Each of them is designed to match well with each other, especially since our female works are sold as a separate mix and match. However, women really like the cross. For boys, easy tie boards and short mesh IOP (my favorite) have always been the first choice.
Q. You've launching with men's and women's styles. What made you want to offer something for both? 
My career consisted of men's and women's wear, so it made sense for me to have both. Women are the main segment of the market, but men also need cool games. With the exception of large swimmers and surfers, there is no real key brand in my category and aesthetics that provides both men and women with a line of swimming. So I want to be the first, the most valuable brand in people's minds.